TRAINING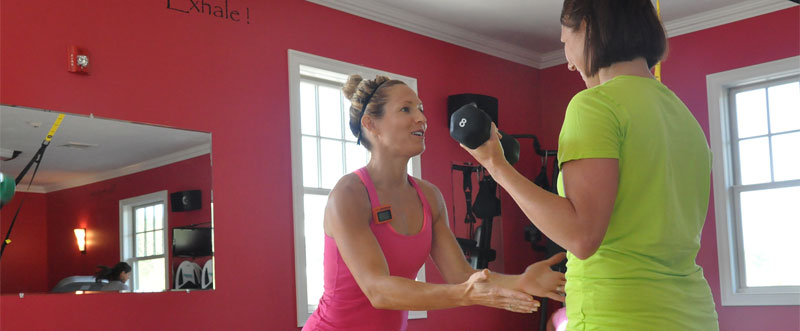 "One-One
The most popular style of training where I work one on one with you as a client. Together we develop a program aimed at targeting your fitness and wellness goals. It's a 50- minute session which includes cardiovascular, strength, and flexibility training.
"Semi-Private"
With one or two others in the training room, you get an individualized training program specifically designed to meet your goals and needs. Very popular training plan, getting great results at a lower price.
"Train
Got a few friends that also want to kick start their fitness!? Train with a group of three or more friends and it will be motivating and rewarding, while FUN at the same time.
"Pre/Postnatal
Train throughout your entire pregnancy in a safe and effective way. Enjoy the many benefits of prenatal training, including less fat retention, less low back discomfort, and proper abdominal toning, as well as helping your body to prepare for delivery and a speedier recovery. Train after you have had the baby as well, to help your body bounce back as quickly and safely as possible. You can even bring your baby and learn how to exercise with that new little bundle of love.
"Sport-Specific
This training is aimed at the athlete looking to improve their game or just stay in shape during the off-season. I specialize in helping the prospective college athlete condition for their first pre-season.
Services

Pilates Reformer Private Training
Pre/Post Natal Exercise
Paddleboard Fitness (seasonal)
Dietary Consultation & Counseling
VersaSpa® Sunless Spray Tan
Massage, including Hot Stone & Couples
Esthetics
Babysitting Available
Body Design Boutique